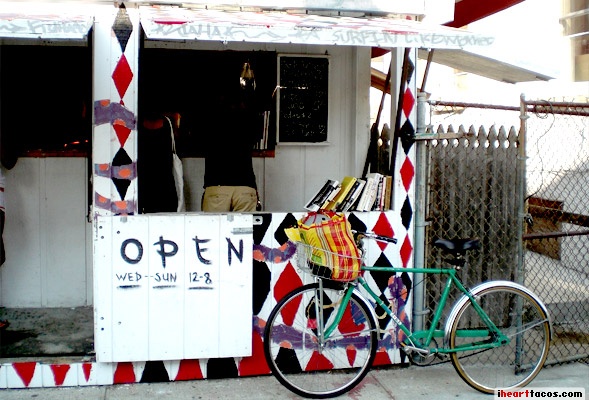 Today we have guest a reviewer! Sarah O'Connor. You can read her review of Rockaway Taco below.
-
When I heard that a few surfers had opened up a taco shack in the Rockaways I could barely contain my excitement. Last weekend I was able to convince a friend to join me after a day in the sun. So we trekked along the boardwalk to 96th Street to Rockaway Taco. The place is a tiny shack; you place your order at a window in the front and eat outside on the patio. The atmosphere is very authentic Californian – my fellow patrons were stretched out enjoying the last rays of the day and drinking 22 ounce Coronas they bought at a nearby deli.
They have three kinds of tacos for $3 each – fish, chorizo and tofu. An extra buck gets you a deluxe version, which as far as I could tell only means that it has guacamole on top. Seemed kind of pricey to me, but it really is quite a trek out there so I couldn't begrudge them too much. I guess I got used to eating the lunchtime half-priced tacos at Papacito's during my unemployment and my sense of pricing has become skewed. So I ordered a couple deluxe fish tacos and a special elote (an ear of corn with mayonnaise, lime, cheese and pepper).
The tacos that were delivered by the cute surfer-girl-waitress looked pretty disappointing. The fish was battered and fried, held in one dry tortilla, covered in guacamole and lettuce with a few radishes as garnish. No sauce. Though, we were brought both homemade red and green salsas that vastly improved the tacos. Otherwise, they were pretty tasteless. The corn was also mediocre; boiled or steamed, not grilled, and kind of tough. The guacamole was delicious though; just the right amount of chunky versus creamy and super fresh. I immediately regretted not ordering just a side of guacamole, which they serve with tortilla or plantain chips. Yum.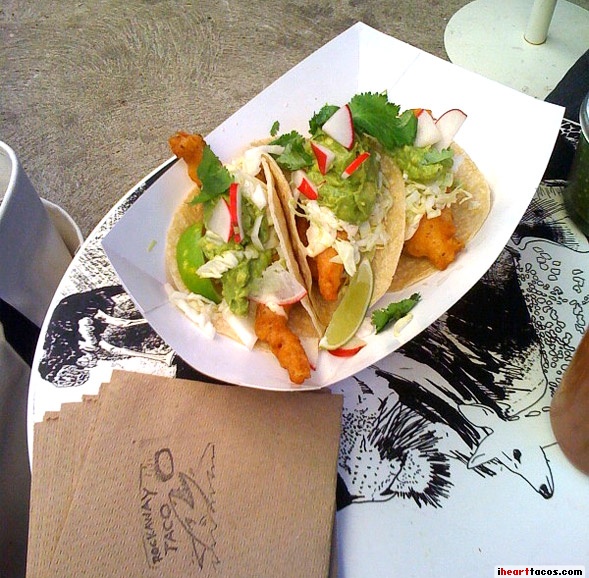 My friend and I finished our tacos and were still hungry, but didn't want to spend more cash so we walked back to the S train at 98th Street to make the long journey back to Northern Brooklyn. It's not worth a trip and I am not sure if I will make it back there this summer, but if I end up nearby and hungry I will definitely be stopping by to eat more of that guacamole and maybe try one of their fruit drinks or quesadillas. They are off my taco list though.
I am secretly a beach bum Californian at heart trapped in the body and life of a New Yorker. Fish tacos and the beach are probably my two most beloved things. When I go out to LA my first stop is always a taco truck (where even the iceberg lettuce tastes fresh and delicious) followed by a trip to to the beach. So while I am trapped in New York during the summer, I often make the long trek out to Jacob Riis Beach and obsessively search for a decent approximation of my beloved fish taco. So far my favorite has been Papacito's in Greenpoint. They are big and greasy but also delicious, fresh and cheap!