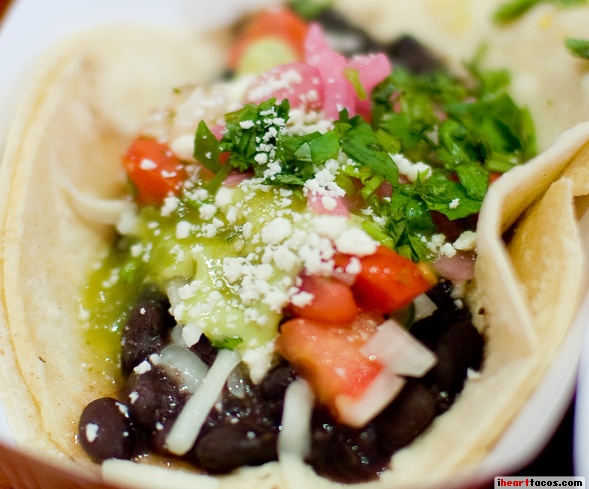 After a long night of drinking with our friend America, Marisa and I decided to remedy ourselves with tacos from the previously mentioned Oaxaca at 251 Smith St. Oaxaca had its soft opening last Saturday and is having its grand-opening at the end of this week.  The owner, Moe, is a Cobble Hill original and grew up right on Baltic St. He's been working in the food service industry since he was 13 years old and now he's opened this great taco joint at the ripe old age of 21!
I ordered the 3 tacos with rice a beans for $9.95 ($1 more for each fish taco, so mine was actually $11.95). My selections were pascado (chilled fish), especiale (shrimp), and carne asada. Each taco is topped with cilantro, onions, tomatoes, green sauce, pickled red onions (yes!), and queso fresco.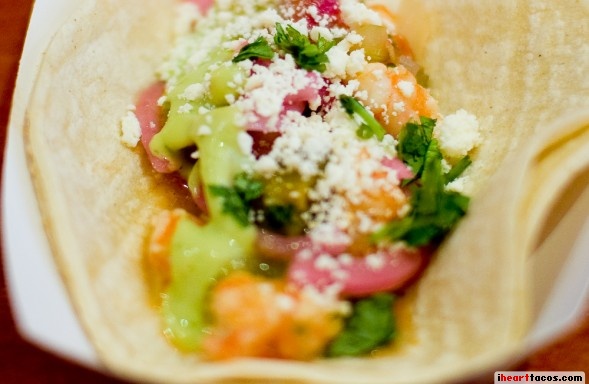 First thing I dive into is the shrimp taco. The shrimp is cooked perfectly. The sauce (some kind of garlicy chipotle sauce) is amazing, a little spicy and it's topped with all the good stuff. I never expect too much from Shrimp tacos but this one was awesome – I could probably eat 3 or 4 of these guys.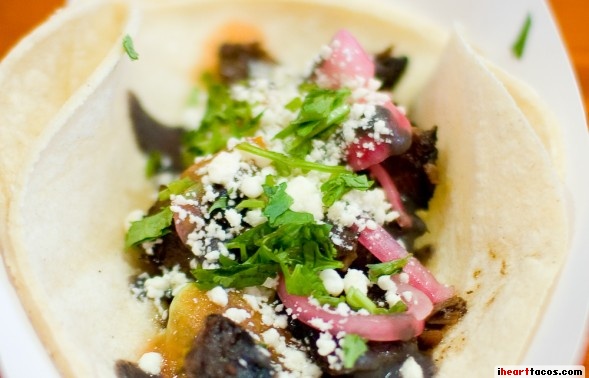 Next up we have the carne asada taco which was grilled and cut up just moments before. It appears to be hanger steak; which Marisa cooks all the time at home because it's cheap and has enough fat to make it quite tasty.  Well, this taco was quite tasty indeed. It also seems to be a popular favorite there and this was Marisa's vote for the best one. I was torn between it and the shrimp.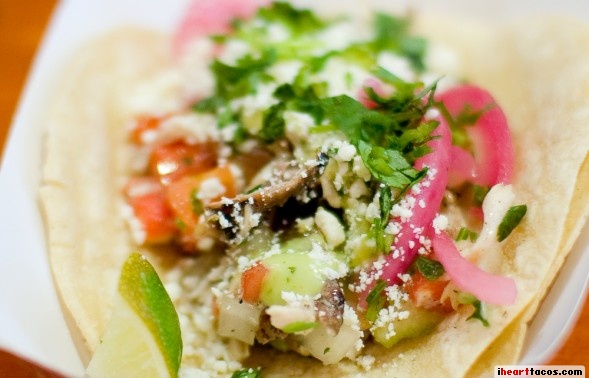 Here is the chilled mahi-mahi taco. Fish tacos I've eaten in the past are grilled or fried so this was something new for me. Surprisingly, it was slightly refreshing eating the chilled fish. Coupled with the fresh toppings, this was a decent taco but the texture of the chilled fish might not be for some people. I also think there could have been an accompanying sauce for the fish (if there was, I couldn't detect it). Overall, I enjoyed it but I can't stop thinking about the steak and shrimp tacos!
Conclusion: We're pretty excited about this place and we'll definitely be back. If they go for extended night hours, I think they can cash in on some nightcap tacos. My only minor complaint was that the tortillas (which were put in an oven) weren't warm for some reason and a little hard/dry. Other than that, this is exactly the type of place we've been waiting for near our 'hood. Best of luck Moe – see you soon!
4/5 Sombreros

More photos…
Tags: Brooklyn, Cobble Hill, Lunch, Tacos