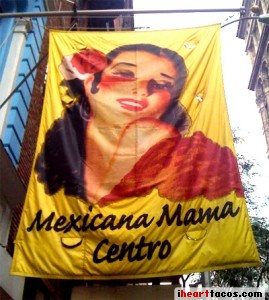 It's been a few years since we ate at Mexicana Mama Centro on 12th St. I remember it was overpriced for Mexican but I didn't remember how the food was (that should have been the first clue). Since the place is usually pretty full and it's a little expensive, I figured it had to be decent.
I ordered the Taco De Puerco: "three corn tortillas filled with chile roasted pork, chihuahua cheese and black beans, served with mexican style rice and avocado" for a recession-neglecting $14.25.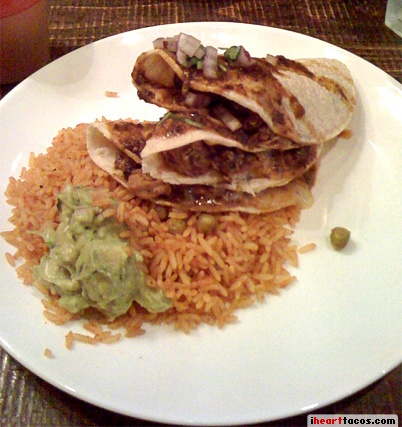 iPhone photo aside, they don't look too appetizing. They may have been run over or dropped on the floor. However, having faith in anything with roasted pork, I was optimistic. Unfortunately, the pork was dry and seasoning was one-dimensional. The spiciness was so-so, typical gringo-level. The cheese and black beans were the only hope for these tacos – but even a dog turd tastes good with cheese and beans on it. The rice was dry and bland, in normal Mexican fashion (Sorry, Mexico, Puerto Rico holds the gold medal there – your rice sucks). The guacamole was a last ditch effort to bring some value to the dish, which falls short as it sits there sadly with grains of dry rice stuck in it. The kitchen must have run out of salt because even the guacamole was lacking.
Overall: Dry, bland, terrible value: 2 Sombreros