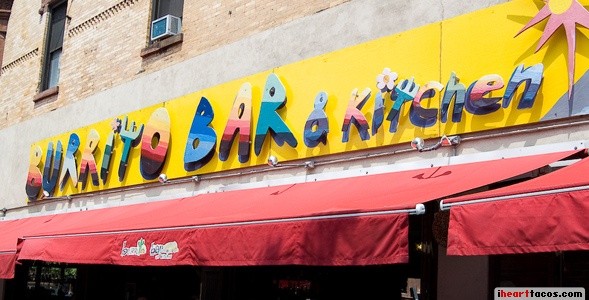 The Burrito Bar may look like a bad franchise but it's not. However, the food quality and prices definitely meet suburban-franchise standards. The place just looks too fun for the food to be good. it's also too big. I think in NYC, the smaller the place, the better the food. Like Snack Dragon Taco Shack in the East Village – there isn't even an inside!
Anyway, I opted for the Breakfast Tacos "Two flour tortillas filled with scrambled eggs, chorizo and cheese. Topped with salsa roja. Served with refried beans." for $15.95! Yea, that price is ridiculous but it does come with "turkey ham" (wtf?),  jalapeño cornbread (why?), coffee and a margarita.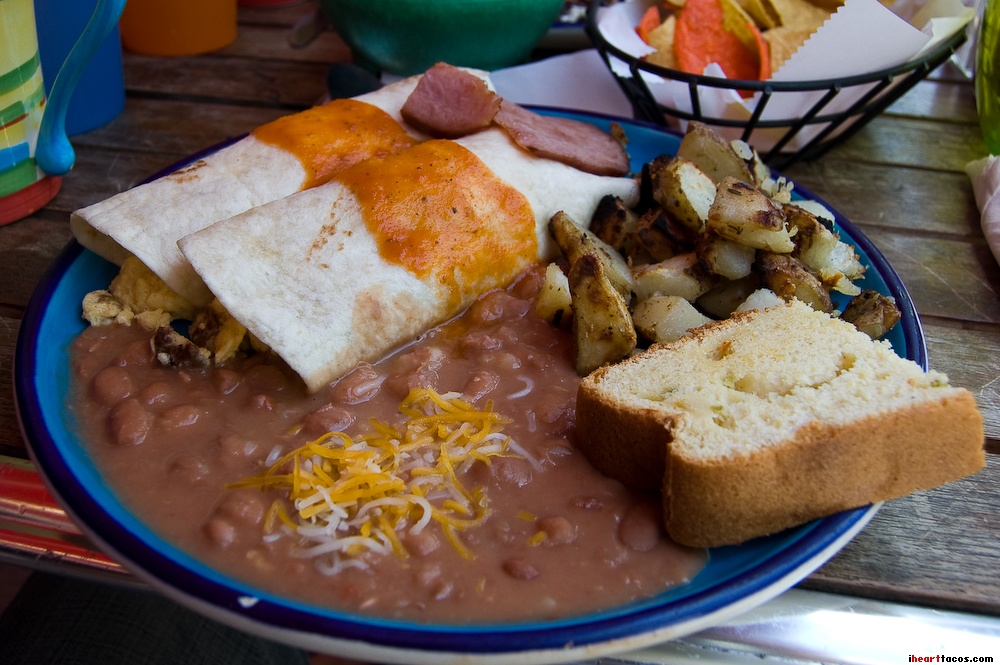 First things first, are these even tacos? I think they are enchiladas. Pretending they are tacos, there are only two of them. In my opinion, three is the optimal number. Even when Marisa and I ordered "one" taco on the street in Mexico, they gave us three anyway because they know what's up. Second, the tortillas were flour. Unless I'm at Chipotle, I prefer corn tortillas. The tacos themselves were mildly tasty but heavy. There was nothing fresh in/on them (e.g. onions, cilantro, tomato). The chorizo was nothing I'd call Mexican. No spice, no dripping orange oil, no burping all night, and no red shit in my teeth. The potatoes would have been good if they weren't already cooked 2 or 3 times. I hoped the cornbread would be a random treat but it was dry and where are the jalapeños? Beans were bland as usual. And then the real black sheep of the dish: turkey ham. What the hell is turkey ham? I'm not sure but it seemed like a turkey version of Canadian bacon. And yes, it tasted like it sounds; Like an imitation of an imitation of something amazing.  So, now I'm realizing they throw in a 50¢ worth of turkey ham and cornbread so it looks like I'm getting a ton of food for $16!
Verdict: Don't go here for brunch. I can't speak for the rest of the food but I can say they have good coffee and good margaritas.